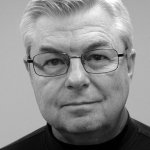 Bill started his own firm, Raftery Design Inc. in 1992 after moving back to Canton, Ohio, where he grew up as a boy. In 1968, Bill left Ohio to attend Pratt Institute in New York City where he received a Bachelor's Degree in Industrial Design. His first job was as a Product Designer with Rubbermaid in 1972.

In 1975, he married Jeannie and moved to Grand Rapids, Michigan where he designed office furniture for Steelcase, and later for Herman Miller. His first daughter Kelly was born in 1980, at which time he moved to Dallas, Texas where he became the Design Manager for Vecta, a division of Steelcase. During this time, he designed a number of office furniture products which included the Kelly Chair, named after his daughter, as well as tables and area seating. In 1986, his second daughter Chrissy was born.

Later, in 1990, after 10 years with Vecta, Raftery struck out on his own to start Faze, Inc. which produced the 901 Chair. This line was eventually licensed to the Tuohy Furniture Company in 1992 where it continues to be manufactured today.

In 1992, Raftery moved back to Canton, Ohio and started his new design firm: Raftery Design, Inc. Since then, his body of work has come to include Executive, Manager and Ergonomic Task Seating designs for companies such as Councill, Novikoff, HBF, Superior, Paoli, JOFCO, Taylor and HAG.

Between Design and Utility Patents Bill has well over 40 total. Other honors include the NeoCon / Best of Show Awards in 1991, 1993 and 1995 and two ADEX Awards.Other products developed by Raftery Design, Inc. are the Quest Underwater Writing Boards for Innovative Scuba Concepts and the Wedgie Air Chair, which was patented in 1996.

When Bill's not working in his studio, there's a good chance you'll find him out golfing or riding his motorcycle.